Whether many people admit it or not, there is a huge spike in gym memberships this time around. If you live in Sacramento or planning to move to the town, It's worth looking at some of the best gyms in Sacramento, California. It looks like many people are feeling guilty, or are annoyed with their eating habits! Don't you think so?
Finding the best gym membership is key for you to maintain your workout routine and stay healthy. Don't want to join a gym? Read home workouts for beginners.
5 Best Gyms in Sacramento, CA
Here is the list of the top best gyms in Sacramento, CA.
Orangetheory Fitness
California Family Fitness
Sacramento Eco Fitness
Fitness Rangers
Crunch Fitness
Let's have a look at the Sacramento, California best gyms one by one.
1. Orangetheory Fitness (One of the best gyms in Sacramento)
Orangetheory is not just a name; it's an hour of a full-body workout focused on your body endurance, strength, and power, which helps you burn more calories post-workout than a traditional exercise. It is their specialty, and they are widely known for it.
Moreover, Orangetheory Fitness has one of the finest fitness coaches to prevent you from over or under training.
Orangetheory Fitness is located throughout Sacramento, just add your location to the following website and find the right franchise of Orangetheory Fitness in Sacramento for you to work out.
Orangetheory Fitness has a spectacular workout room consisting of a variety of equipment. From treadmill to TRX suspension trainers, medicine balls, and AB Dollys.
Orangetheory Fitness includes a variety of membership categories to choose from which include Orange Basic/4 classes, Orange Elite/8 classes, and Orange Premier/unlimited classes.
All of these have different rates starting from $59/month surging to $159/month.
Location: 2901 K St #190, Sacramento, CA 95816, United States
Contact: Official Website | Phone: 916-836-8383
Reviews:
"Solid workout and you get results. The coaches are awesome and motivating! The health stats they provide post-workout are helpful to track your progress." – Daniel
2. California Family Fitness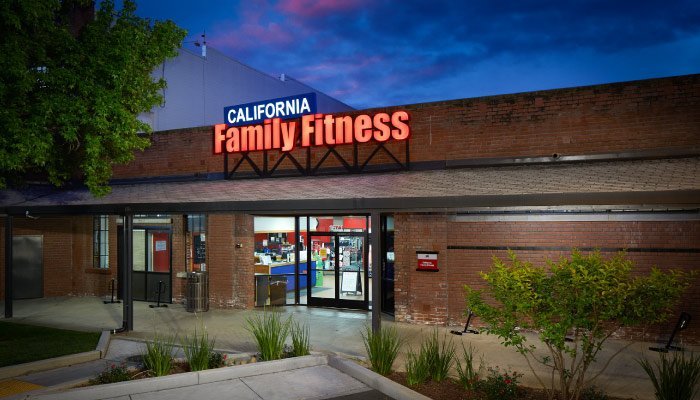 As from the name "family," you can have an idea that this is a family-oriented gym that aims to provide a full entertainment experience to the whole family; moreover, childcare for your little ones is also among the gym offerings.
Well, if you're worried about the location, you'll be relieved after knowing that, it is situated in various places in the greater Sacramento area. You'll likely find one near your area. Therefore, it's time you let go of your excuses to skip the gym!
California Family Fitness offers a much affordable rate; without any discounts applied, the individual rates are as low as $1.75 per day.
However, still not ready to give it a try? Don't worry, head to their official website and get a 7-day trial at the California Family Fitness to experience the environment for free.
Location: 62 Valine Ct, Sacramento, CA 95831, United States
Contact: Official Website | Phone: 916-392-8300
"Great gym, good location. Small good for beginners. Miss the ice maker and towels though." – Joe
3. Sacramento Eco Fitness
Another addition to the list is the Sacramento Eco Fitness, the first human-powered facility in California.
Sacramento Eco fitness aims to encourage their customers to get into the best shape of their life; along with that, they also tend to improve the environment by generating power with the help of your Eco-Power cycles, which you produce during a workout. Such a humble motive isn't it?.
Well, who would love to work out on worn-out equipment? No one! Exactly. That's where Sacramento Eco Fitness stands out on top with its finest quality SportArt fitness equipment, along with its highly professional staff.
One thing is clear: joining Sacramento Eco Fitness with its motivational cause of improving the environment won't let you skip your gym classes. Still not ready? No worries, just give them a call. They'll be happy to guide you through. Happy Exercising!
Location: 1914 L St, Sacramento, CA 95811, United States
Contact: Official Website | Phone: 916-841-5416
"My first time! Working out can be intimidating but this gym was awesome! Welcoming and good energy! Amazing workout! I will be back!" – Gail
4. Fitness Rangers
Fitness Rangers is widely known for its helpful staff and great atmosphere. According to recent surveys, Fitness Rangers have also made up its position among the best workout spots in Sacramento.
Fitness Rangers offer state-of-the-art gym and training facilities, on-site personal training, multiple Bootcamp classes each day, boxing, kickboxing, and childcare. It surely provides a dynamic fitness experience for achieving goals and measurable results.
Fitness Rangers offer multiple plans to select from:
20 classes- $400
10 classes- $215
5 classes- $115
1 class- $25
However, if you're interested in buying membership packages, we recommend visiting Fitness Ranger's official website.
"4-star facility, 5-star environment. The owner and management are very cool, friendly, easy-going. I highly recommend this place." – 
5. Crunch Fitness
Crunch Fitness is greatly known for being a diverse community; they call it the culture of fun. How innovative, right? Well, we think that they're promoting something extraordinary, which other fitness clubs do not, that's why it's on our list. 
So, if you feel scared going to the gym just because you think the gym won't accept your culture? That's where Crunch Fitness shines. It is a gym for all kinds of people with all kinds of goals.
Crunch Fitness features modern strength and cardio equipment in the industry; you will find every possible essential needed for a great workout. Their world-class personal trainers will give you the best possible experience at a very attractive price.
Get yourself a 1-Day pass just for free and enjoy the true wonders of diversity.
Location: 1250 Howe Ave, Sacramento, CA 95825, United States
Contact: Official Website | Phone: 916-333-3209
Reviews:
"It's a great place with a chill atmosphere and friendly staff. I enjoyed my work out there today. I can't wait to go back." – Ray
Conclusion
All of the gyms listed above are great in their ways; you won't regret your decision if you choose either of them. Well, for making things a bit further easier, choosing a nearby gym is always a smarter choice. So, to sum up, these particular gyms in Sacramento are undoubtedly the best in Sacramento among numerous, and we have surely selected one of these for your health and fitness.