If you are willing to transform your body and want to achieve your fitness goals. If you are searching for the ideal gym in Fresno, California Here is the list of the top 5 best gyms in Fresno, California.
Best Gyms in Fresno, CA:
Orangetheory Fitness

The Iron Office

Doc's Gym

CrossFit Fresno

Xpress Fitness
1. Orangetheory Fitness: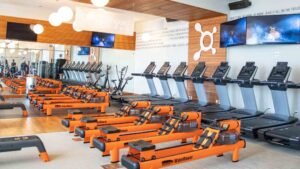 Orangetheory is one of the best gyms in Fresno California where whole-body workouts bring endurance and power. Training is intended to energize your metabolism and burn your calories. The technology set up in the gym continuously monitors heart rate while you walk at your place. Authorized and well-trained personal trainers are provided. After a real workout in Orangetheory Gym, you will get more confidence and real body transformation results. To get the experience of their training avail yourself of the opportunity of 2 weeks free trial with a guarantee. Their packages are different for different classes as a whole they arrange 10 to 30 training classes.
Location: 7735 N Blackstone Ave suite 106-112, Fresno, CA 93720, United States
Contact: Official Website | Phone: 559-326-9255
Reviews:
"Really Great! In my 2nd class, I thought the 1st was kicking but the 2nd kicked me well. Going again tomorrow for more kicks 😁" – Georgia
2. The Iron Office Gym:
The Iron Office Gym is the best gym with fitness equipment and training facilities. This gym help in maintaining fitness and gaining muscular strength.  According to your Cardio health weightlifting, and training boost up your energy level. Personal trainers are provided to men and women in maintaining strength, weight loss, and overall fitness. They also provide you with experienced powerlifting champions. They provide single membership monthly of $75 and one-year membership of $600.  All members of the gym have open permission to use equipment and get trained by expert and professional trainers.
Location: 5940 E Shields Ave St 104, Fresno, CA 93727, United States
Contact: Official Website | Phone: 559-981-5035
Reviews:
"Life-changing environment! Great equipment, people, and a lot of amazing member perks such as the saunas, posing room, their guns, meal prep fridge, and cool merch." – Bevan
3. Doc's GYM:
Doc's GYm is the wondrous gym to fulfill your fitness goal. They provide you a comfortable and friendly zone with your fitness intentions. You will be a prat of their team and feel like a part of their fitness family. They have Open Gym membership with $50 monthly and a high-intensity package of $140. This gym provides trainers of 24 years of experience and professional trainers. Trainers of a determined mindset with specialization in sports motivate you in achievement fitness.
Location: 263 N Minnewawa Ave, Clovis, CA 93612, United States
Contact: Official Website | Phone: 559-299-2301
Reviews:
"Amazing place to work on your own personal fitness goals. They are very friendly and have great communication. You become part of a team that feels like a fitness family. Highly recommend." – Michael
4. CrossFit Fresno:
CrossFit Fresno is one of the highly ranked gyms in Fresno which provide personal training facilities in a healthy environment. Their whole community has athletic trainers and fitness experts to improve the quality of life. You can get unlimited classes in a month for $179 but you can also get a free trial. They mentor you about your diet plan, Exercise Information, Cardio health management, and sleep priorities. Their system of testing body compositions is incredible.
Location: 66 E Escalon Ave Ste. 107, Fresno, CA 93710, United States
Contact: Official Website | Phone: 559-492-0432
Reviews:
"Rosanna, Jeff, and the entire CFF coaching staff and community have made my move to the Fresno area remarkable. I genuinely look forward to going to the gym every day. CFF has a safe, welcoming, and positive environment." – Vanessa
5. Xpress Fitness:
If you are concerned about your body composition you should consider Xpress Fitness Gym. This gym is designed to reach you at the healthiest destination with bicycling, jumping, weightlifting, and stretching your muscles. jumping, boxing, and balancing your fitness routine. They provide personal training with a golden package under $25 monthly and a registration fee of $49. Group training with inspired trainers is available to reach your goal. They serve 24 hours from Monday to Friday. The gym offers an isolation training facility, circuit training, cool down training, circuit training, and many more. They have a special golden offer for Military and primary responders. They can get 10% off on their membership fee.
Location: 3790 W Shields Ave, Fresno, CA 93722, United States
Contact: Official Website | Phone: 559-319-8162
Reviews:
"I enjoy this gym because of the friendly staff, accessible sanitation stations, and excellent workout machines. I have recommended this gym to several of my friends. It is a locally owned business so I have a great time when I work out." – Santos