Houston is widely known as the world capital of space exploration, but that's not it. When you explore this city, you will find a variety of things, whether you are looking for restaurants to visit or looking for a gym to break a sweat. You can pick a gym from this list of best gyms in Houston.
Well, in this article, we have something special for the ones who like to maintain their Fitness, as below is the list of the top gyms in Houston, TX.
1. OAK Fitness
OAK Fitness promises you excellent services in health and Fitness. It is one of the best gyms in Houston, TX.
With an inspiring environment and clean amenities, you would indeed have a quality experience at OAK Fitness. They tend to encourage their community to work together as a team to help expel in their business through a performance-driven mindset.
OAK Fitness has a great mission to help develop honest and long-lasting relationships with its customers by positively impacting their lives.
Location: 4620 Center St, Houston, TX 77007, United States
Phone: 832-582-5025 | Official Website
2. MEKANIX GYM
Looking for a Calisthenics and bodyweight training gym? Then we insist on keeping MEKANIX Gym on top of your list as MEKANIX is the only Gym offering this facility.
MEKANIX gym further provides programs that focus on increasing mobility, strength, balance, and flexibility for a lifetime journey. Trainers at MEKANIX are highly qualified, so you don't need to stress about that.
MEKANIX makes sure that their classes are skill-based and objective-oriented so that customers at MEKANIX improve their skill set by working towards a defined objective.
Try their Fire and Ice therapy; it's probably the best therapy you will ever experience.
Location: 1118 Montrose Blvd, Houston, TX 77019, United States
Phone: 832-598-5335 | Official Website
3. Muscleheadz Houston
Muscleheadz Houston can analyze your body to create a fitness plan that fulfills your goals and objectives without putting a lot of stress on your body; trainers at Muscleheadz make sure that your fitness goals are taken seriously because they know how challenging it is to gain muscles and lose weight.
Your success is their goal; their objective is to motivate you to reach your goals and improve your lifestyle. 
Well, we can guarantee that Muscleheadz is not only a gym; it's a life-changer.
Location: 2715 Emancipation Ave, Houston, TX 77004, United States
Phone: 281-888-9603 | Official Website
4. Houston Gym
Looking forward to a change? Houston Gym is at your service.
Houston gym offers a group exercise program for keeping workouts exciting and safe for you; moreover, if you are not getting the outcome you have hoped for, you can opt for a personal trainer at Houston gym to build your motivation.
They also further specialize in medical, sport, and deep tissue massage. Just if you want to make yourself calm after a workout, you can take advantage of this facility.
Still, hesitating? Don't worry; Houston gym offers a free three day-trial pass to experience their world-class fitness center.
Location: 1501 Durham Dr, Houston, TX 77007, United States
Phone: 713-880-9191 | Official Website
5. The Gym
Your health and Fitness are our priority, that's what they say.
The Gym is a premiere gym located in Houston; you will find almost everything here that needs to be a part of your health and Fitness. With the help of their trainers and experts, you will be covering the journey of your fitness goals very quickly.
Well, another fantastic facility at The Gym is their training sessions. Team up with their certified personal trainers at this neighborhood gym in a safe and cleaner environment.
Be a part of The Gym family by coming in today.
Location: 1950 W Gray St #6, Houston, TX 77019, United States
Phone: 713-527-8000 | Official Website
6. Washington Gym
Next on the list of best gyms in Houston is Washington Gym. It is a superior option if you are looking for a complete transformation. Transforming your health would change your life; that's how it goes at the Washington Gym.
There are two types of training programs at the Washington Gym: their world-class personal training and the other is their W.G.X. Open-Gym. The unique training facility at the Washington Gym matches no other gym in Houston.
If you want to exercise at your own pace, you should opt for the W.G.X. Open-Gym program, as it will provide you with unlimited access to this well-equipped training facility.
Join the Gym today at 97$/month.
Location: 1925 Washington Ave, Houston, TX 77007, United States
Phone: 832-413-1889 | Official Website
7. Kinitro Fitness
If you are tired of these average gym classes you have been taking, well, we are pleased to introduce you to Kinitro Fitness. Kinitro Fitness promises that classes at Kinitro Fitness are not your old average classes, but they're something extraordinary for your strength and Fitness.
But let us ask you this once, what's your fitness goal? Are you more into group strength and conditioning? Or more towards athlete performance? Well, you would be glad to know Kinitro Fitness offers it all.
Pick up a seven day-trial at the Kinitro Fitness for just 7$ and experience the true wonders of personal training at your neighborhood Kinitro Fitness.
Location: 9889 Bellaire Blvd #124a, Houston, TX 77036, United States
Phone: 281-870-2682 | Official Website
8. Hank's Gym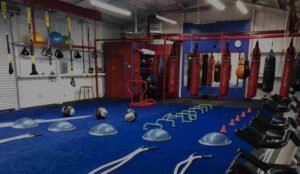 Hank's Gym has been providing its services in Houston since 1972.
If you want to acquire full benefits from your fitness training, Hank's Gym is there to assist you as they are widely known for providing real benefits out of their strength training. They build up confidence in you which would help you sustain the everyday stress of your life, improvising a healthy lifestyle.
Get a chance to meet the professional staff at Hank's Gym.
Location: 5320 Elm St, Houston, TX 77081, United States
Phone: 713-668-6219 | Official Website
9. Be Fit Gym
Well, looking for a gym that almost feels like home is a difficult task to do, but we have made sure of it. Be Fit Gym is on our list because customers have shared their experience referring to this Gym as their "home."
You will be having a pretty great time exercising at this well-equipped Gym. However, if you are not ready to give it, get a 14.99$ pass for one day to experience the true feeling of home miles away.
Location: 2420 Rusk St, Houston, TX 77003, United States
Phone: 832-830-8310 | Official Website
10. H.N.S. Training Facility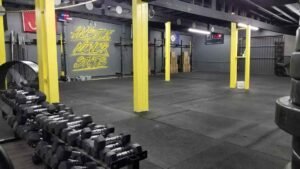 The H.N.S Training facility is worth looking for you to bring health and wellness to yourself as its main objective is to spread health and wellness to the community.
The H.N.S. training facility is specially designed to provide a judgment-free and inspiring environment to motivate you to improve. H.N.S. Training Facility offers two types of programs, group training, and personal training. H.N.S. Training Facility has it all to offer.
Play Big to stay Big. So, this was the last gym in the list of best gyms in Houston, TX.
Location: 12895 East Fwy, Houston, TX 77015, United States
Phone: 346-227-2927 | Official Website
Conclusion
So, we hope that this list of best gyms in Houston might have eased your problem, as finding a gym that meets your requirement is undoubtedly a difficult task to do, especially in a city like Houston, where there are multiple options to pick from.
Therefore, we have summed up for you, go on and pick the one best suitable for you, we can guarantee the one you choose would not disappoint you. We have managed to select one for us, have you as well?
Previous Article: The 14 Best Gyms in Chicago, IL